How to properly compose an aperitif board?
Charcuterie
Replacing crisps, the appetizer board is now a more pleasant way to feast. Embellished with different flavors, it is an original way to enhance an aperitif dinner with friends. Online charcuterie, specializing in aperitif products, Directos.eu provides you with some advice on how to put together your aperitif board.
The choice of platter and the food needed for your aperitif
To make a successful composition of your aperitif board, you must set up the board and prepare the ingredients.
Dress your board
The choice of support is essential for the successful preparation of your aperitif board. For an aesthetic result, it is advisable to choose a wooden plank, or a slate or marble support. Also adapt the size of the tray or the board to the number of guests present at your aperitif. If you are in a select committee, a single board will be enough to arrange your different preparations. On the other hand, if you are numerous, plan several boards. This will give you more space to arrange the snacks harmoniously.
The shape of the tray will depend on what you offer. If a rectangular shape is generally preferred for its practicality, a round tray can also be suitable. Finally, provide small bowls or containers to put spreads, a basket of bread, serving knives and crackers.
Lay out the food needed for a good aperitif board
Once you have chosen your platter, plan the essential foods for your aperitif. On your board, you can have:
of charcuterie,
crackers,
cheese,
fresh fruit,
dried fruits and oilseeds,
breads and other shortbread appetizers.
To make your appetizer tray appetizing, consider decorating it. To garnish your board, consider laying lettuce leaves, cherry tomatoes or crunchy vegetables. Also plan pickles, small white onions or olives.
When it comes to crockery, don't forget teaspoons, table knives, plates and napkins. You can also place wooden picks directly on your trays so that your guests can help themselves without getting their fingers dirty.
Compose your aperitif platter
After preparing the tray and the food for your appetizer, you can now concoct this delicious dish.
Install containers, crackers and cheeses on your aperitif board
Start by positioning the containers on your tray. They take up a lot of space on a board. They are used, among other things, to deposit olives or raisins and facilitate the positioning of other ingredients. When first positioning the containers, take care to make a balanced visual distribution of the different elements.
Then place the cheeses starting with those that you cannot cut. Then come the cheeses cut in different sizes and shapes to achieve visual harmony on the board. As you know, there is no appetizer without bread or cracker. Put bread with seeds, herbs or dried fruit on the tray, as well as shortbread snacks such as breadsticks. The ideal is to place these ingredients on the edges of the board so that they are easily accessible.
Place the charcuterie, fruit and accessories to compose your aperitif
Arrange your charcuterie in different shapes. You can for example place the ham in small rolls, and put the slices of rosette or salami in rosettes. If you want to add fresh fruit, such as grapes, you can place them here and there on top of the other ingredients. Make pineapple cubes, or melon balls for example. You can also offer your guests dried fruits such as peanuts, almonds or prunes. You can then choose to arrange them in a small bowl or scatter them on your appetizer board.
For more freshness, and to preserve the flavors, you can compose your aperitif board in advance and keep it cool in a refrigerated place. Remember to cover the board with cling film or aluminum foil to preserve the taste of the products.
Some ideas for beautiful aperitif boards to taste
To put together your aperitif board, you can vary the themes according to your diet, the season or the region. The classic aperitif board, usually mixed, is made up of charcuterie and cheese. You can put a pot of rillettes, raw ham, slices of chorizo ​​and different cow cheeses for example.
The vegetarian aperitif board is perfectly suited for the summer season. It is a composition of raw vegetables, several sauces as well as spreads such as tapenade. You can add fruits such as raspberries, strawberries and cubes of melon or watermelon to it.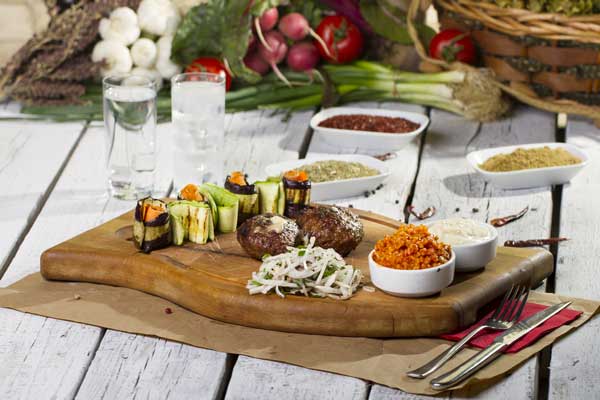 We talk about it in this article