Dried sausage & Spanish Fuet
Expert in charcuterie, Directos.eu specializes in selling the best sausages. Discover in our online store, dry sausage of superior quality, available individually or in a sausage box. Our pork sausages are products of high quality, resulting from traditional know-how. You will like their moderate salt content, their richness in protein, sodium and their high nutritional values. Offered at prices accessible to all, they can be cut into thin or large slices for any occasion.
The sausage, a must in the kitchen
Like ham, rosette and dry sausage, sausage is frequently included in cooking recipes. It is ready to eat unlike the sausage which must be cooked. It is also different from chorizo.
The sausage can be savored on the table for an aperitif with friends or a family celebration. Opinions on the sausage are unanimous: it is a delicious product. It is so popular that there is a Mondial du saucisson in France.
Find on sale all year round in our shop, plain pork sausage, sausage with wild boar, lean poultry sausage or hazelnut sausage. Get your sausage box at a producer price. With our home delivery service, vary the pleasures with an assortment of well-spiced sausages for a successful aperitif.
Making sausage with pork: quite an art
The production of dry sausages requires the respect of meticulous stages, from the choice of raw materials to the melee. To guarantee the quality of the product, we select the lean-fat meat from certain well-chosen parts for a tasty flesh quality. Pork meat is the material traditionally used to make dry sausages. For the pleasure of all consumers, we also offer innovative charcuterie using other ingredients.
We choose, among other things, wild deer meat for its high iron and protein content. Game lovers can choose wild boar sausage. For those who do not like pork, it is always possible to choose a sausage made from poultry and duck.
The pork must then be sorted to remove soft fat, skin, cartilage, nerves and tendons. This more or less tedious task is carried out by several people. During its preparation, the butcher must also ensure that the characteristics of the meat remain optimal. The meat is stored a few hours before pre-salting to improve the taste of the final product.
The pork meat is minced and seasoned with salt, the main ingredient of the preparation. Nitrite, lactose ferments, spices and a list of additional ingredients are also added during the fray. With us, the melee rests in a natural casing of the chosen meat and a natural mushroom flower. This is embossing, a step involving a complex artisanal process. Indeed, drying sausages is difficult in a casing that is too thick. In addition, the natural casing must be absolutely homogeneous and free of air to promote optimal drying.
Several other steps are implemented to produce a sausage with a unique taste, our brand's signature. The result is a tasty pork sausage, ideal to delight the taste buds.
Dried sausages - French Saucissons
---
Learn more about saucisson, fuet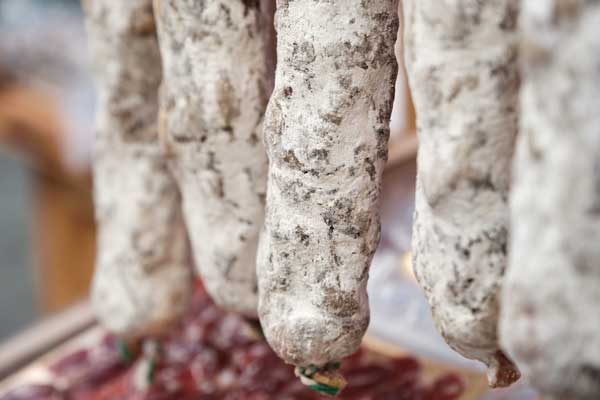 Widely appreciated around the world, the dry sausage adds extra flavor to many recipes. It is made from pork, salt, pepper and other ingredients that enhance its taste. Its skin is strewn with a white matter, similar to flour. This is the natural flower whose importance few people know. Find out here what this layer on the surface of the sausage is for. What is dried sausage flower? This white matter is a collection of micro-organisms, particularly molds and a little yeast...
Read more
Tasting our sausage
To trivialize the preparation of sausage during tasting is a mistake. do not commit. Indeed, the moment of cutting is sacred. Cutting cured meats in front of the guests adds that little extra that makes the moment even more enjoyable.
To benefit from all the flavors and aromas, it is best to opt for a consumption in small quantities. Then cut into thin slices and be sure to the aesthetics of the cut using a sharp knife. You will achieve a clean cut, worthy of the greatest chefs. On the other hand, a cut dry sausage in thick slices will delight those looking for a creamy texture. Note that the consumer has the choice to remove the skin from the sausage.
The sausage is a great success as a starter in a good meal, as an aperitif or even on a picnic. Eating it alone is the best way to appreciate the product. It is even more relevant when you choose a product with original flavors like the farmhouse sausage that we offer.
What is the best accompaniment for a sausage?
There are many accompaniments that go well with a sausage. The most common are crackers, slices of bread, pickles  or cheese. You can also vary with raw vegetables or salad, which will make good accompaniments for a sausage. For the more adventurous, it is also possible to serve a sausage with fruit, such as apples, pears, bananas and grapes.
How to taste an artisanal sausage?
It is important to choose quality dry sausages. to take full advantage of it. A good sausage should have a pleasant texture and taste. Once you have found a sausage that corresponds to; your tastes, taste it like a wine. Smell its aroma, then cut a slice of it (thick or thin, depending on your taste, we will come back to this in a future article...), then taste it for enjoy the flavor. So you can really enjoy the quality. and the flavor of the sausage.
Rather wine or beer to taste a sausage?
You may be wondering, should you eat sausage with wine or beer? Combine the sausage with; A glass of wine or beer is a delicious way to enjoy your favorite dry sausage. Whatever your choice, you will learn how to choose the right wine or beer to accompany your favorite dry sausage.
Taste a sausage with wine
When choosing the right wine to accompany a sausage, white wine is a great option. Dry white wines are best for bringing out the delicate flavor of sausage. White wines with rounder aromas like Chardonnay are a great choice to pair with strong, earthy sausages. Soft and fleshy red wines, such as Merlot, are ideal to accompany milder sausages.
Taste a sausage with a beer
If you prefer to drink beer with your sausage, try light, bitter beers like pilsner. Light and bitter beers with their subtle flavors are a great way to enhance the flavor of sausage. For a stronger, earthier sausage, try a stronger amber ale which will help tone it down. balance the flavor.

You now know how to accompany a sausage. So, what are you waiting for to taste your favorite sausage! ?
Buy sausage online
In our shop, find a variety of quality pork sausages  artisanal, with the possibility of buying sausage online. Apart from its succulent taste, the nutritional characteristics of the sausage remain an important selection criterion. Our dry sausages deliver all their flavors to the pure state. They give you a concentrate protein and essential nutrients.
For those looking for fruity tastes and smells, it is possible to taste our products with figs, hazelnuts, with tomatoes. Without masking the taste of the meat, our products also allow you to benefit from the vitamins of these fruits. We also offer irresistible flavors such as the salami with the famous Manchego cheese. This cheese from the Manchega sheep is the most famous Catalan cheese. It is appreciated for its dry texture and voluptuous taste, with a tangy edge.
To satisfy all your gourmet desires, choose a sausage box. We bring together our star varieties, to multiply the pleasure. A sausage box is also an ideal choice for discovering our products and choosing which one suits you best.
A dry sausage from Directos.eu can be stored until 6 months after its purchase (find out how to store a sausage > ). You can hang it in a cool, dry place or refrigerate it in a cold storage container. vegetables. Ready to go taste the best dry charcuterie? Request delivery to; home of the sausages of your choice as soon as possible.