Charcuterie wholesaler, the wholesale specialist
Specialized in the wholesale of meat, the charcuterie wholesaler like Directos.eu is an intermediary between restaurateurs, slaughterhouses, cutting workshops and certified breeders. A true expert in meat, the charcuterie wholesaler can operate both on the national and international markets. Our role is to find the most reliable sources of supply on the market so that you can provide its customers with quality products.
When operating in the national market, we keep our products in cold stores with the aim of preserving all their aromas and flavors. In addition to its role as a supplier of good quality products, the delicatessen wholesaler also helps catering professionals to choose the best meats for their professional activities. As for the prices of cuts of meat, they are set according to the quantity ordered, but also in relation to market prices.
At Directos.eu, we also have a wide choice of meats of different qualities. Among the main meat formats offered at the best price, you can find sausages, ham and whips. Our ranges of traditional charcuterie or pork-free charcuterie should satisfy your most loyal customers.
Restaurant: why choose a charcuterie wholesaler?
As a restaurateur, buying meat from a delicatessen wholesaler allows you to benefit from multiple advantages. In addition to the very attractive prices, we also offer our customers high quality meats.
High quality products
It is increasingly difficult to find good meat on the market. One of the main advantages of a charcuterie wholesaler like Directos.eu is that they offer cuts of meat of impeccable quality.
Apart from our extensive knowledge of the meat market, we are subject to regular quality and safety checks. To comply with the legislation in force, we therefore rigorously select hygienic and healthy products for our customers in terms of charcuterie. This safety check thus guarantees the quality of the foodstuffs we offer.
Very competitive purchase prices
Who says quality product does not necessarily mean high price. Indeed, the meat offered by the charcuterie wholesaler is accessible to all budgets. Thanks to our excellent knowledge of the market, we know how to find you quality meat at attractive prices. As delicatessen wholesalers, we can thus offer you products with a very good quality/price ratio to restaurateurs.
In addition, the charcuterie wholesaler also offers special prices for professionals. Buying meat from us is therefore a great advantage for you. Thanks to a charcuterie wholesaler like us, your customers benefit from quality charcuterie at a reasonable price.
An excellent relationship between professionals
To be sure to provide quality dishes to your customers, you strive to maintain a long-term relationship with your supplier. Indeed, thanks to the charcuterie wholesaler, you are guaranteed to have good products for a long time. For the catering professionals that you are, offering quality products allows you to build customer loyalty more quickly and easily.
Are you a restaurant owner? Bar/brasserie manager? From a grocery store? Do you want to serve quality charcuterie to your customers, which will be appreciated over a good drink and will make them want to come back?
Our range of traditional charcuterie comes mainly in 2 formats: Sausages and Whips
Sausages: short and wide, they are related to local charcuterie, with hazelnut sausage, wild boar or venison;
Whips (or fuets): thin and long (about 30cm), they are typical of Spanish (Catalan) charcuterie with the flagship product being Fuet Catalan, worked (at Keesbo) in the square of tenderloin, a noble part of the pork, giving an irresistible taste to the product;
From 1€82 per piece
Professional prices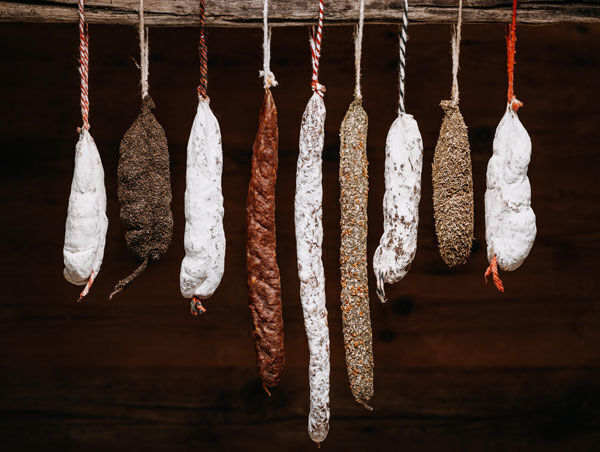 Want to taste before ordering?
No worries!
We invite you to discover our products, not in the form of samples, but indeed the real products, while benefiting from PRO prices.
Click on the button below to automatically add our discovery box, grouping together the flagship products of our brand, to allow you to get a more precise idea of ​​the quality of our products (in case our customer reviews are not enough not)!
Also discover our range of charcuterie 100% without pork:
A 100% pork-free charcuterie
Certified 100% pork-free deli meat is a good alternative for people who do not consume this meat for personal or religious reasons. At Directos.eu, we most often offer wholesale traditional charcuterie (sausages, whips) with different flavors and containing very little fat.
If your clientele is more keen on charcuterie without pork, we have adapted by offering quality products. Among the deli meats without pork, you can find:
dried duck breast,
duck and poultry whip (figs, plain, mushrooms, hazelnuts),
the mutton whip,
duck breast sausage,
the beef nut…
Contrary to what one might think, deli meats without pork are particularly appetizing. It stands out for its unique flavors and originality. Made from poultry, duck, mutton and beef, it is ideal for fine restaurants. It's up to you to make your bulk order at the best price in our shop. Your Directos.eu delicatessen wholesaler will be able to offer you quality products that will delight the taste buds of your customers.
Duck whip and poultry (plain, figs, hazelnuts, mushrooms)
Dried duck breast
Duck breast sausage
Sheep whip
Nut of beef
From 2€22 excl. VAT each
Professional prices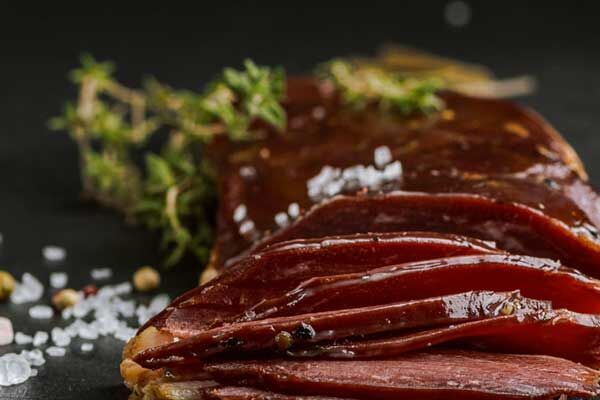 The meats come from Spain and France.
Our hygiene checks are carried out frequently (up to twice a week). Strict European standards.
Each product is bare (without packaging) or individually packed, either vacuum-packed or in a protective atmosphere, giving the products excellent preservation.
The expiry date (DLC) of the products varies between 5 and 6 months.
Professional rates
Offer your customers quality charcuterie at an exceptionally very attractive price thanks to Directos.eu with a
special discount for pros
-40%
(depending on the particular price including VAT displayed)
Conditional discount of:
1- Minimum order of 150€ (about 3 boxes)
2- Order per full carton:
- box of 30 to 40 pieces for sausages and whips
- box of 12 pieces for ham nuts (plain or pepper)
- box of 7 pieces for the duck breasts
- ... (information available on each product page)
Create your PRO account now!
You don't want to order whole boxes?
We also offer a "Semi-Pro" package
with a discount of
-25%
with the only condition of a minimum order of 150€.
For any other request for information, contact us!
Via the contact form by clicking on the button below
or by phone at 06.81.46.04.49