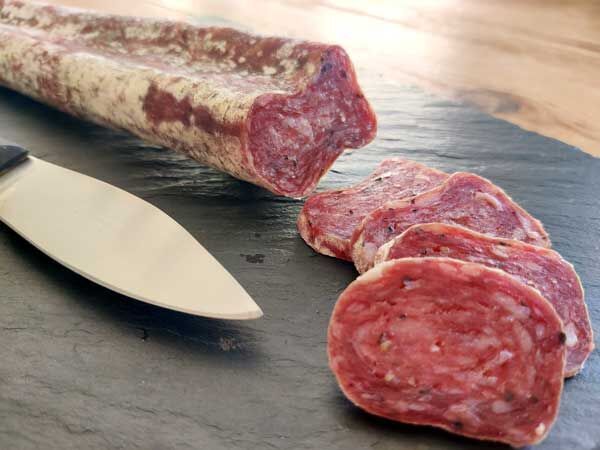 Click on the image to enlarge
1 Saucisson surprise OFFERT
Only

30€

left to take advantage of the offer!
Un saucisson surprise offert (choix suivant stock disponible) avec le code SURPRISE
Offre valable pour une commande de plus de 30€ (hors frais de port), réservée aux particuliers et une fois par client
Longanissa - Dry sausage (Longaniza, Spain)
300 g
Price per Kg:
29€97/Kg
Exceptional farmhouse sausage, beautiful piece of 300g, also called Dry Longanisse (or Longaniza).
The longanisse sausage is a must for lovers of artisanal charcuterie. It delights the taste buds with its exceptional flavor and is very popular in France, Spain and many countries. Directos.eu invites you to better discover this long and spicy sausage that it offers at the best price to its customers.
Origin and history of the longaniza sausage
The longaniza sausage is a product of Iberian origin. It comes more precisely from the south of Spain (Andalusia). This sausage is today a flagship product of Spanish sausages, specifically from Catalonia and Andalusia. This is what earned it the Protected Geographical Indication.
The production of longanisse sausage dates back to the 14th century, but it was revealed to the world in 1857 at the Universal Exhibition in Paris. This traditional charcuterie product is now consumed in France, in many countries of the European Union and throughout the world. Longanissa sausage is made with minced pork meat and spices. Everything is wrapped in natural sheep casing before a compulsory 7-day drying period.
The aging that characterizes the longanisse sausage gives it its particular taste, its striking smell and its color. This sausage contains saturated fatty acids, carbohydrates, sugars and proteins. Sausage or longaniza sausage also contains fats as well as salt. It is therefore a pleasure food, to be consumed in moderation, but always with pleasure!
Making the longaniza sausage
The longaniza recipe is simple to understand, but it can only be mastered by craftsmen experienced in this type of charcuterie production. To make a longanisse sausage, they first use fresh pork belly. Some recipes also use boneless pork shoulder. In addition to minced pork, you need natural mutton casing with a diameter ranging from 22 to 26 mm. The other essentials are in general:
salt,
a mixture of four spices,
ground black pepper,
sweet pepper,
green anise.
In other cultures, white pepper or gray pepper powder is used. The Pied-noir people as well as other ethnic groups around the world have created many varieties of this farm sausage. They are sometimes found that contain cloves, saffron, cinnamon powder, garlic and nutmeg. Apart from the main ingredients of pork, natural mutton casing and green anise, the spices used may vary from one product to another. These ingredients used to produce sausage or longaniza sausage are used to give it its particular little taste. They can therefore be used according to the desire of each artisan of traditional charcuterie . The use of spices leads to the distinction between mild longaniza sausages and hot longaniza sausages.
In addition, industrial sausage contains additional products such as dextrin, soy protein, stabilizers, preservatives, lactose and sometimes a flavor enhancer. Commercial sausages are often vacuum-packed. This allows them to retain all their natural properties until consumption.
On the Directos.eu store, you will find, in addition to this unique succulent longanisse, other types of sausages which will be from the Keesbo brand, a Spanish manufacturer based in Catalonia. This producer has been working in the field of artisanal charcuterie (sausage, ham, etc.) for over 60 years.
How can you eat longanisse?
Longanissa is very similar to salami, but also to chorizo, another specialty of Iberian charcuterie or Spanish. It can be eaten in different ways. Commercially, it is available as a semi-smoked dry sausage. However, longanissa can also be eaten fresh, semi-dried or grilled. In some recipes, it is used as an ingredient in its own right. This is the case for the preparation of puff pastries with longanisse.
Longanissa sausage can also be eaten fried, especially in egg dishes. Thanks to its pronounced and particularly spicy taste, this sausage arouses the interest of guests at every barbecue. It can also be used to complete an aperitif board. There are many longanissa recipes that you can find on cooking sites, cooking shows, magazines, etc.
We can, for example, cite pan-fried longanisse with beans and candied tomatoes, chickpeas with longanisse, pepper and longanissa dishes, etc. This Iberian sausage can accompany absolutely all your dishes! You are free to try it in any recipe and for any meal of the day.
Buy your dry longaniza sausage at the best price
On the Directos.eu store, you have at your disposal a wide range of sausages and artisanal charcuterie specialties. Order your longaniza sausage at the best price with an impeccable guarantee of quality. Thanks to the know-how and experience of our producers, you can be reassured about the quality of the pork products (sausage, ham, fuet, etc.) sold on the site.
To produce the sausages marketed on the shop, the partner producers select the meat according to its taste and its lean fat content. They favor a quality of meat that provides an optimal amount of fat for deli meats. In addition to this, they ensure that the meat retains good organoleptic properties. The meats used are of European origin. They conform to quality standards and guarantee good traceability.
Find out more on our blog: La longaniza: A sausage with a spicy taste
More pictures Click on the image to enlarge
---

Delivery all over Europe 
at low price

Same day shipping
for all orders before 11am

Customer satisfaction
94% of our customers ask for more!
1 Saucisson surprise OFFERT
Only

30€

left to take advantage of the offer!
Un saucisson surprise offert (choix suivant stock disponible) avec le code SURPRISE
Offre valable pour une commande de plus de 30€ (hors frais de port), réservée aux particuliers et une fois par client
Longanissa - Dried spanish sausage
8€99
Unit price incl. tax
Learn more about Spanish charcuterie
Learn more about Longanissa - Dried spanish sausage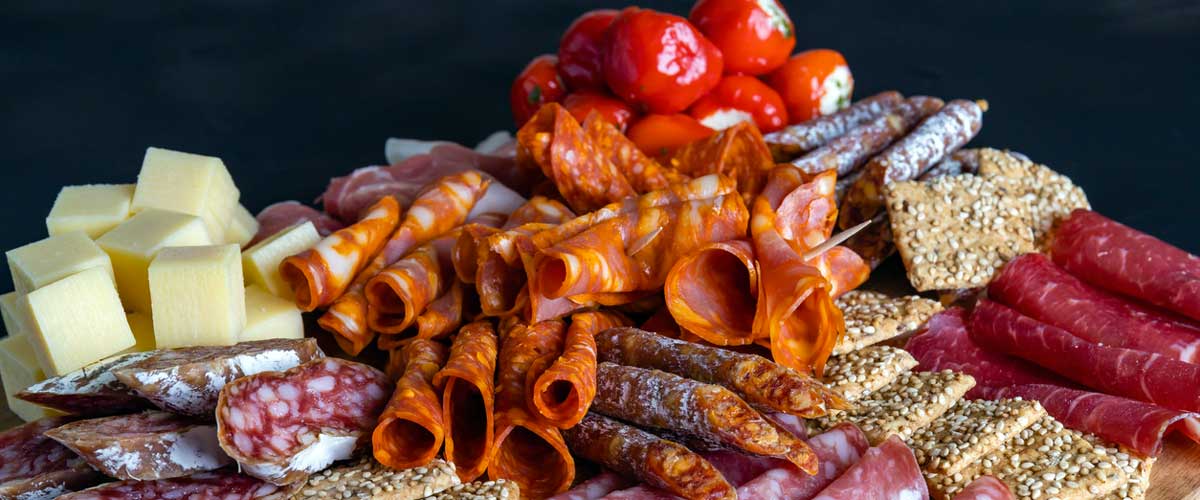 Iberian charcuterie is a preparation made with Iberian pork. This is a breed of black pig that is usually found in southwestern Spain. These pigs are different from the others and are usually free range in the Iberian Peninsula. This breeding method is very important, because it allows to have tasty and quality meat. The online cold cuts Directos.eu presents in this article the different types of Iberian cold cuts. Iberian hams or jamón ibérico The jamón ibérico is a cured Spanish...
Read more
Longanissa - Dry sausage (Longaniza, Spain)
Exceptional farmhouse sausage, beautiful piece of 300g, also called Dry Longanisse (or Longaniza)