Lomo, an Iberian charcuterie
Spanish charcuterie
Lomo
In Iberian cuisine, the lomo is a special feature prized for its unique flavor. Its particular composition makes it a healthy food that can be incorporated into any cooking recipe. This delicatessen knows how to be unanimous everywhere it goes thanks to its unique taste. Directos.eu offers you quality lomo at the best price.
Lomo: an atypical and traditional product
lomo is a sausage made from pork loin. These are two tissues that lie on either side of the spine, below the ribs. The loin offers a flesh that stands out for its tenderness and finesse. It has virtually no fat. The loins are treated with salt which allows them to dry out by absorbing the water and to prepare them for ripening.
The lomo is then marinated according to recipes specific to each producer. Depending on the ingredients used, it can have a very pleasant spicy taste. The sweet pepper (paprika) brings a slight touch of spiciness to enhance the flavor of the lomo and delight your taste buds. Garlic, pepper, bay leaf and other ingredients complete the recipe to enhance the aromatic notes of the lomo. To allow the garlic mixture to integrate this charcuterie well, we put it in a casing.
At Directos.eu we offer at an attractive price a quality red lomo that keeps all its freshness and taste for many months. Come and get this creamy product in our shop.
Lomo, a charcuterie similar to bacon
For bacon lovers, you will find almost the same flavors of this product with our tasty red lomo. Our charcuterie is indeed similar to bacon in its smokiness and its appearance. In thin slices, you may even find it difficult to distinguish between the two products. The lomo will thus offer you a very good taste in the mouth, whether during an aperitif or during a meal. It will also accompany your different dishes and give them an incomparable flavor.
The red lomo, long-term preservation
The high-quality lomo that we offer at an attractive price in our shop can be stored for many months without losing its taste. Strict compliance with the various stages of the preparation of cold cuts allows long-term preservation of the product, even after the vacuum packaging has broken.
The vacuum-packed lomo can be stored for six months. If you open the packaging, you can preserve this deli meat for three months. Just put it in a fridge to keep it at the right temperature. You enjoy your quality lomo for a long time to please yourself. As with pork ham, salting, drying and curing reduce water and the risk of bacteria proliferating, which improves preservation time.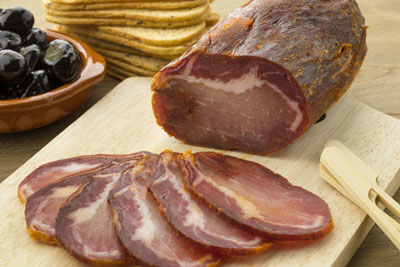 Tasting the lomo
Lomo is a favorite charcuterie to enjoy the sublime taste of meat on a daily basis. Like ham or chorizo, take the lomo out of the fridge to enjoy it at the ideal temperature. To truly appreciate the taste and aromatic notes of this charcuterie, opt for the classic cut for your charcuterie. You will be able to better savor its smoothness in the mouth. Using your knife, cut thin slices two to three millimeters thick.
You can combine the lomo with different recipes. This product will enhance your dishes in the best possible way. This food goes well with other products to which it brings its subtle flavor in the mouth and its aromas. Try the pasta salad with lomo, courgettes and pine nuts. To cook this dish for four people, you need the following ingredients:
80 g of lomo,
150 g tagliatelle,
a zucchini,
3 tablespoons of olive oil,
50 g pine nuts,
onion, salt, pepper, tomatoes (100 g).
The preparation takes about 10 minutes. Choose quality products for a successful kitchen. You can also try recipes such as potato pancake with lomo, white cabbage and lomo cake, croque-monsieur with lomo, etc.
If you are looking for a quality red lomo for your meals, Directos.eu is the ideal store. Come and get your charcuterie at the best price in the shop and receive it in delivery as soon as possible.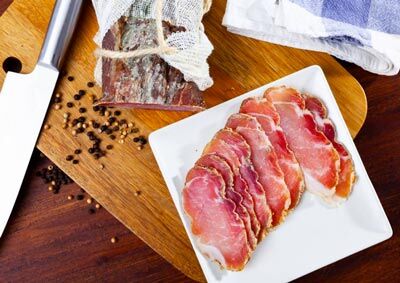 We talk about it in this article