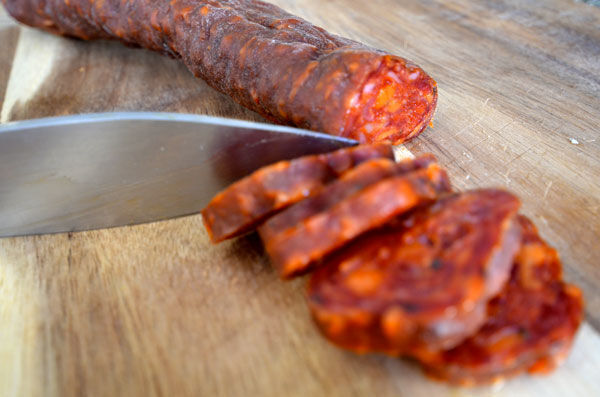 Click on the image to enlarge
1 Saucisson surprise OFFERT
Only

30€

left to take advantage of the offer!
Un saucisson surprise offert (choix suivant stock disponible) avec le code SURPRISE
Offre valable pour une commande de plus de 30€ (hors frais de port), réservée aux particuliers et une fois par client
Chorizo - Spanish Delicatessen
150 g
Price per Kg:
24€67/Kg
Chorizo ​​is a sausage of Spanish origin that is very popular in Europe and particularly by the French. This specialty of Spanish charcuterie offers a multitude of flavors.
Chorizo, a food with a unique taste
Spanish charcuterie, chorizo ​​is made with pork or a mixture of meats. At Directos.eu, we choose the best cuts of meat to make this food, especially lean fat. This allows us to offer you a quality chorizo with a nice consistency.
During the production, we use an original homemade seasoning to bring more flavor to this Spanish charcuterie. When you put it in the mouth, you first feel a spicy side that comes to raise all the other aromas. The tasting of our chorizo ​​therefore offers you a real taste discovery. You are invaded by several pleasant sensations and you take pleasure in savoring the sausage.
You can eat it on its own or put it in a salad, a paella... You can also sauté it in a pan before using it. This will bring out the flavors and aromas of the chorizo ​​more and bring a unique taste to your preparations. Our sausage can be kept for a long time, see chorizo's conservation.
Chorizo, a healthy food at a reasonable price
At Directos.eu, all our dry charcuterie is prepared in strict compliance with the hygiene standards that are in force in Europe. The manufacture of our products is artisanal and is based in the heart of the Spanish volcanoes. It follows a Catalan salting technique that is more than 60 years old. It is all this that allows us to produce tasty and healthy food. In addition, all our products are sold at a direct producer price.
Pork
Sausage
Spain
Tradition
More pictures Click on the image to enlarge
Composition
Pork meat and fat, spices, salt, lactose, garlic, milk powder, dextrose, stabilizer (triphosphate), antioxidant (sodium ascorbate), flavor, preservative (sodium nitrite), color (cochineal). Natural pork casing.
May contain traces of dried fruits, sulphites.
---

Delivery all over Europe 
at low price

Same day shipping
for all orders before 11am

Customer satisfaction
94% of our customers ask for more!
1 Saucisson surprise OFFERT
Only

30€

left to take advantage of the offer!
Un saucisson surprise offert (choix suivant stock disponible) avec le code SURPRISE
Offre valable pour une commande de plus de 30€ (hors frais de port), réservée aux particuliers et une fois par client
Chorizo
3€70
Unit price incl. tax
10 things to know about chorizo
Spanish chorizo ​​is one of the tastiest and most unique cured meats in Spain. For centuries, artisans have mastered this recipe to create a product of exceptional quality. Here are 10 things to know about Spanish chorizo ​​and its delicious flavor.
1- The origin of chorizo
Spanish chorizo ​​originated in Spain and has been one of the types of cured meats traditionally produced in this country for centuries, dating back to Roman times. The Romans brought pork sausages made with black pepper and other spices that were similar to what we know today as chorizo. For centuries, the Spaniards continued to develop and perfect the recipe, adding additional spices and ingredients to create the chorizo ​​we know today.
2. Types of Spanish chorizo
There are many types of Spanish chorizo, including smoked chorizo, fresh chorizo, and dry chorizo. The most popular variety is dry chorizo, which is made with pork and spices.
3. The flavor of Spanish chorizo
The flavor of Spanish chorizo ​​is sweet and fragrant. The flavor may vary depending on the type of chorizo ​​you choose. Dry chorizo ​​is the most fragrant, while fresh chorizo ​​is milder. It can be mild but more generally, the recipe for traditional chorizo ​​makes it a spicy charcuterie! Hot!
4. The main ingredients of Spanish chorizo
The main ingredients of Spanish chorizo ​​are pork, spices, and possibly red wine. Other ingredients like salt and pepper can be added to accentuate the flavor.
5. The uses of Spanish chorizo
Spanish chorizo ​​can be used in many ways, including as an ingredient in casseroles, main courses, or as a garnish on pizzas or salads. However, in France as in Spain, it is eaten dry and sliced ​​for an aperitif.
6. The conservation of Spanish chorizo
Spanish chorizo ​​is available in dry and fresh form. It generally keeps longer in a dry form. It should be kept in a cool, dry place, and it can be stored for up to 6 months. Over time, it will dry out and mature. It's up to you to eat it to your liking, dry or tender.
7. The benefits of Spanish chorizo
Spanish chorizo ​​is an excellent source of protein, vitamins and minerals. It is also rich in healthy fats, unsaturated fatty acids and antioxidants that protect your immune system.
8. Threats linked to the consumption of Spanish chorizo
The pork used to make Spanish chorizo ​​may contain bacteria and microbes that can be harmful if improperly handled or stored. It is also important to cook the chorizo ​​thoroughly (if fresh) to avoid contamination from pathogens. The addition of nitrites may be necessary to prevent the spread of bacteria such as salmonella or legionellosis.
9. Precautions to take before eating Spanish chorizo
None! Go there with your eyes closed and taste!
10. Spanish chorizo ​​recipes
There are many tasty recipes that use Spanish chorizo, including casseroles, entrees, and pizzas. You can also use it to flavor soups, stews and salads. Spanish chorizo ​​is a tasty and versatile ingredient that can be used in many delicious recipes.
Spanish chorizo ​​is one of Spain's tastiest and most unique sausages. Thanks to artisans who have mastered this recipe for centuries, it is possible to enjoy the unique and delicious taste of this product. So what are you waiting for to invite him to your table?!
Learn more about Chorizo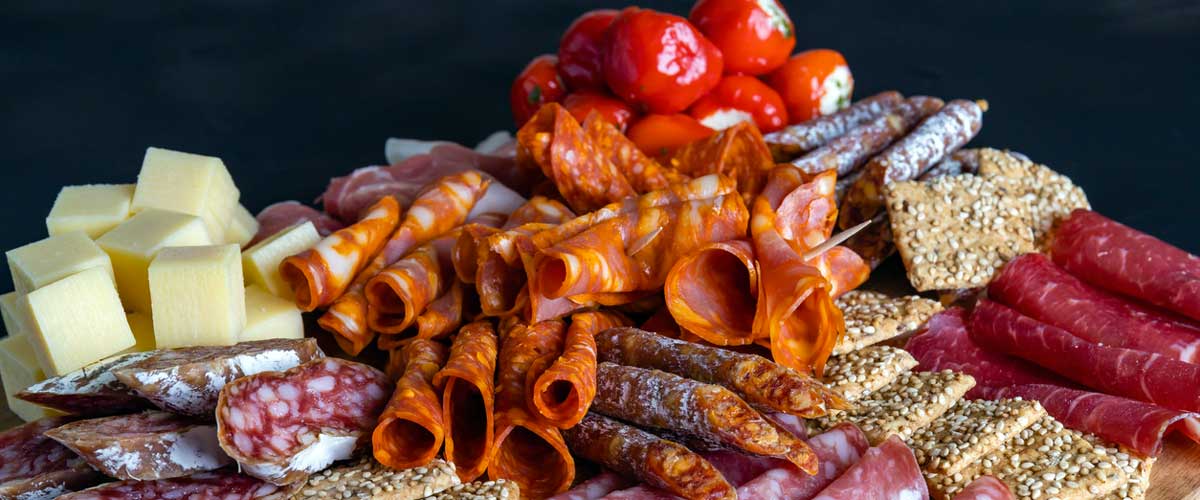 Iberian charcuterie is a preparation made with Iberian pork. This is a breed of black pig that is usually found in southwestern Spain. These pigs are different from the others and are usually free range in the Iberian Peninsula. This breeding method is very important, because it allows to have tasty and quality meat. The online cold cuts Directos.eu presents in this article the different types of Iberian cold cuts. Iberian hams or jamón ibérico The jamón ibérico is a cured Spanish...
Read more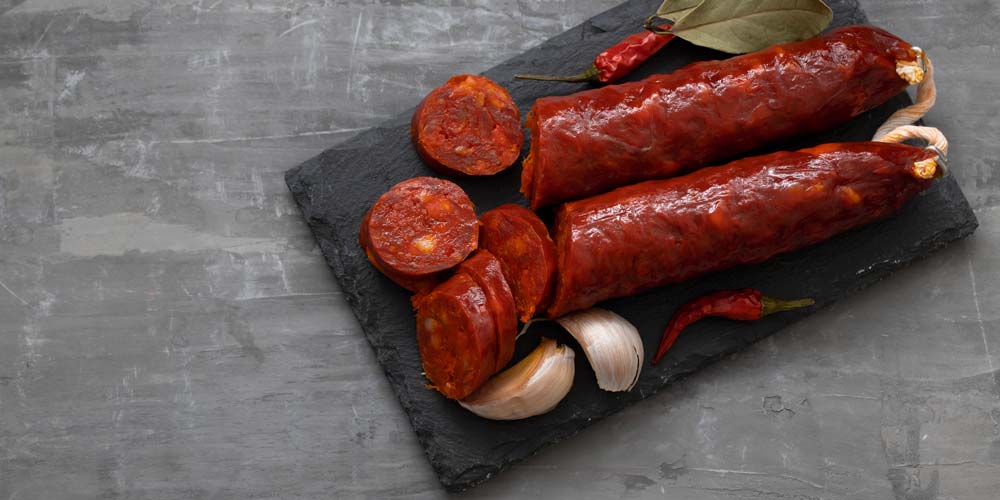 Chorizo ​​is a cured meat of Iberian origin, very widespread in Europe and Latin America. It is also very popular in France where it can be eaten as an accompaniment to a salad to give it a little spice. Depending on the method of preparation and the ingredients used, there are many varieties of chorizos. Directos.eu invites you to discover how this Spanish charcuterie is made, which is very similar to the French dry sausage. Chorizo, Spanish dry sausage The chorizo generally...
Read more
Chorizo - Spanish Delicatessen
Chorizo ​​is a sausage of Spanish origin that is very popular in Europe and particularly by the French