What is the composition of chorizo?
Spanish charcuterie
Chorizo
chorizo is one of the most popular foods when preparing certain dishes, especially those for appetizers. Consumed in France and other countries, this spicy sausage comes in different varieties. If chorizo ​​is so appreciated, it is partly thanks to its unique flavors that gives it its authentic composition that Directos.eu invites you to discover.
Pork meat: an essential ingredient in the production of chorizo
The basic ingredient to prepare chorizo ​​the way you like it is pork. This charcuterie is made with quality flesh. To give consistency to the final product, producers choose the best slices of pork ham. Lean meat is particularly favored to give tenderness to the food and guarantee a unique taste. Bacon is added to add fat to the preparation.
The quality of the meat used impacts that of the chorizo. Pigs must be raised in good conditions. The slices used in the preparation are taken from animals raised according to European standards to allow you to enjoy healthy cooking at home.
A mix of meats for a chorizo ​​with pleasant flavors
Among the various types of chorizos available, there are some that offer a mixture of meats. Less popular than the authentic sausage consisting solely of pork lean and fat, these products offer a different taste. There are sausages made with deer meat that stand out for their finesse and taste. Beef chorizo ​​offers an original mix of beef and pork. Popular, this variety of sausage is made with quality ingredients. The beef used to make it comes from animals that are fed and cared for according to the recipes of the Iberian culture. There are chorizos made with horse, foal, wild boar or other meat.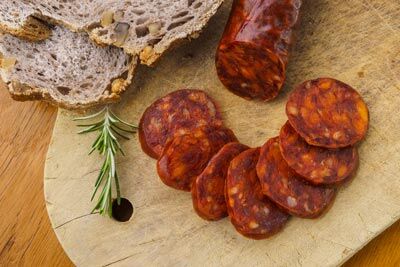 Paprika to spice up the chorizo
Paprika or "pimenton" is also important in the preparation of chorizo. Without this variety of sweet pepper, chorizo ​​would not be as tasty. The paprika sublimates the color of the chorizo ​​by tinting it with rust that tends to red.
It boosts the flavor of the product by providing a spicy taste in the mouth. The use of paprika brings an aromatic touch to the chorizo. This spice has the particularity of giving spiciness without giving a sensation of much too hot pepper when tasting.
Salt for good preservation of chorizo
The salt used in the chorizo ​​recipe brings out the taste notes of the food and affirms its flavor. It plays a decisive role in the preservation of this charcuterie. Salting preserves the chorizo ​​for several months.
Salt works as a desiccant. It reduces the activity of water, which makes it possible to cancel the proliferation of microorganisms and inhibit the effect of enzymes. The bacteria that promote fermentation are then controlled, which improves the shelf life of the chorizo. Pepper, garlic, oregano or bay leaf are used to enhance the spicy taste of chorizo and its aromas.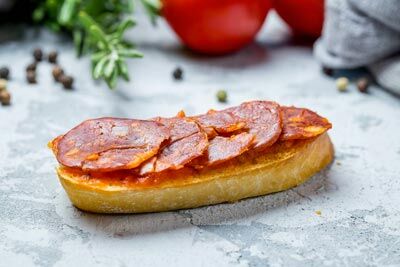 We talk about it in this article