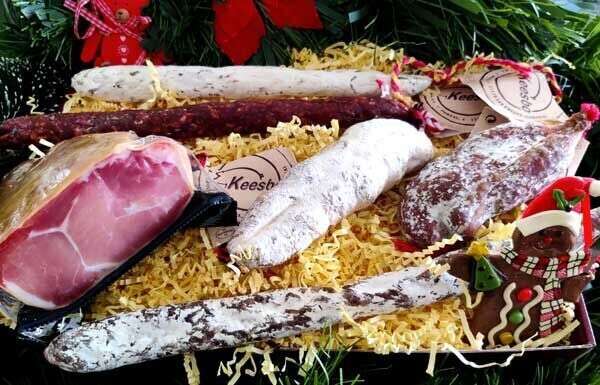 Click on the image to enlarge
1 Saucisson surprise OFFERT
Only

30€

left to take advantage of the offer!
Un saucisson surprise offert (choix suivant stock disponible) avec le code SURPRISE
Offre valable pour une commande de plus de 30€ (hors frais de port), réservée aux particuliers et une fois par client
Christmas box
1.22 Kg
1 x Chorizo1 x Fuet Catalan1 x Sausage Olives1 x Hazelnut sausage1 x Sausage Boar1 x Ham nuts
36€50
Unit price incl. tax
Christmas is the time to share great moments and make presents. What better than to offer those around you gourmet gifts that will amaze their taste buds? Discover in the stock of the Directos.eu online store at the best price a magnificent box of quality charcuterie to please your loved ones during Christmas.
The charcuterie present in the box to offer at Christmas
Christmas represents conviviality, sharing and love. It's time to introduce your loved ones to the best charcuterie from all walks of life. Directos.eu has in stock in its online store a sublime charcuterie box of high quality and at an attractive price that will make the perfect gourmet gift during this Christmas. In this box, you will discover many products, such as plain ham (500g), whipped olives or chorizo.
You can also enjoy the Catalan Fuet Espetec. With its long and narrow shape, its smooth texture and its characteristic white color, this Spanish dry sausage will take your loved ones into the magic of Christmas with its unique taste and flavor. Very original, the sausage with hazelnuts sprinkled with sunflower seeds and the wild boar sausage are also perfect for integrating into the Christmas charcuterie box.
The perfect charcuterie box for Christmas
The charcuterie box offered at the best price in the shop is presented as a gourmet gift par excellence. Between the Spanish chorizo, the Fuet Catalan , the olive whip and the ham nut, you will have enough to make yourself a good tasting of quality products at Christmas.
And it's not over! No gourmet Christmas box without the tasty wild boar sausage and sausage with hazelnut. These baskets rich in charcuterie (with or without pork) wrapped in burgundy red gift boxes are enough to delight the heart of the person who receives it.
To let the magic of Christmas work during your meal, all the products available in stock in the shop are offered at very attractive prices. So don't hesitate to choose your charcuterie box to taste a multitude of products with a unique taste.
Enjoy fresh products and exceptional after-sales service
To spend the festive season rich in color and flavor, Directos.eu offers you a variety of quality products that you can serve as an aperitif or offer as a Christmas gift. Our charcuterie box is one of those ideal products to accompany a good wine, spend a gourmet Christmas and please your guests.
After your order of 20 euros, delivery is free everywhere in mainland France and Belgium. Regardless of your place of residence throughout Europe, before delivery, your package is well packaged and well protected so that you receive it on delivery as soon as possible and in very good condition. With more than 95% positive reviews left by satisfied customers, you are sure to choose the right gift with your deli box for Christmas with our shop.
Delivered wrapped in a gift box, burgundy red, ready to give.
More pictures Click on the image to enlarge
---

Delivery all over Europe 
at low price

Same day shipping
for all orders before 11am

Customer satisfaction
94% of our customers ask for more!
1 Saucisson surprise OFFERT
Only

30€

left to take advantage of the offer!
Un saucisson surprise offert (choix suivant stock disponible) avec le code SURPRISE
Offre valable pour une commande de plus de 30€ (hors frais de port), réservée aux particuliers et une fois par client
Christmas box
36€50
Unit price incl. tax
Christmas box
36€50
Unit price incl. tax
Christmas is the time to share great moments and make presents