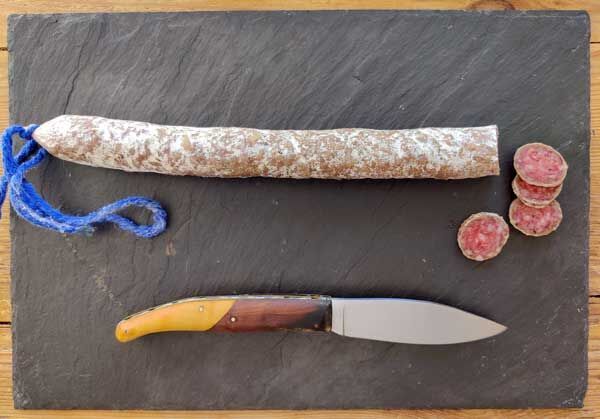 Click on the image to enlarge
1 Saucisson surprise OFFERT
Only

30€

left to take advantage of the offer!
Un saucisson surprise offert (choix suivant stock disponible) avec le code SURPRISE
Offre valable pour une commande de plus de 30€ (hors frais de port), réservée aux particuliers et une fois par client
Sausage Truffles flavor
130 g
Price per Kg:
33€85/Kg
The Saucisson à la Truffle (or truffle fuet) is a dry sausage made from pork meat, containing a percentage of truffles of around 1%. With a weight of 180 grams, it is perfect for an aperitif with friends or to enhance all your dishes. Its unique taste is the result of the subtle blend between the plain dry sausage and the black fungus: the truffle. The truffle sausage is a rare product, delicious and rich in flavors that will delight your taste buds.
The truffle
The truffle is an edible wild mushroom highly prized for its unique and refined taste. It has a rounded shape and a dark color, ranging from black to brown, with lighter veins. Its texture is hard and grainy and its flavor is intense and pungent. The truffle is often used as an ingredient to flavor dishes or sauces, but it can also be eaten raw or grated on hot dishes.
The different varieties of truffle
Truffles are a variety of underground mushrooms that are highly valued for their unique flavor and texture. They are found in many parts of the world, but the most popular varieties come from Europe and Asia. Truffles are available in a variety of colors, shapes and sizes.

The different varieties of truffles include:
- Black truffle: The black truffle is the best known and most sought after variety of truffle. It is native to Europe and is known for its rich and strong taste.
- White truffle: The white truffle is native to Asia and is characterized by its sweet and subtle flavor.
- Brown truffle: The brown truffle is a less known and less sought after variety than other varieties. It is native to Africa and has a milder flavor than the black truffle.
- Summer truffle: The summer truffle is a seasonal variety that only grows during the summer months. It has a lighter and sweeter flavor than the black truffle.
Benefits of truffles
Truffles are considered a naturally nutritious food and can offer a variety of health benefits. They are rich in vitamins and minerals, especially B vitamins and selenium. Truffles are also a good source of fiber and protein. They also contain antioxidants and phytochemicals, which help protect the body against free radicals and reduce the risk of disease. Plus, truffles are a good source of healthy fats, including oleic acid, which can help lower bad cholesterol and improve heart health. Truffles are also a good source of potassium, which is essential for cardiovascular health and for controlling blood pressure.
Order this sausage online today and find out why it's so popular!
More pictures Click on the image to enlarge
Composition
Pork, 1% truffle.
Natural pork casing.
---

Delivery all over Europe 
at low price

Same day shipping
for all orders before 11am

Customer satisfaction
94% of our customers ask for more!
1 Saucisson surprise OFFERT
Only

30€

left to take advantage of the offer!
Un saucisson surprise offert (choix suivant stock disponible) avec le code SURPRISE
Offre valable pour une commande de plus de 30€ (hors frais de port), réservée aux particuliers et une fois par client
Sausage Truffles flavor
4€40
Unit price incl. tax
Learn more about dry sausages (French saucisson)
Sausage Truffles flavor
The Saucisson à la Truffle (or truffle fuet) is a dry sausage made from pork meat, containing a percentage of truffles of around 1%