The best taste combinations for tasting Catalan fuet
Spanish charcuterie
Catalan fuet
Catalan fuet is a dried sausage very popular in Spain. Its delectable flavor and the many possibilities of culinary combinations it offers make it a popular food. Fuet can be eaten as an aperitif accompanied by a few slices of bread, fruit and wine. This Spanish cured meat is used as the main ingredient of many typical dishes of this country. With Directos.eu, discover the best taste combinations to enjoy Catalan fuet.
Catalan fuet, olive oil and bread: a classic to try
Appreciated for its tantalizing flavor, Catalan fuet is a must in Spanish cuisine. It is produced with the rack of pork tenderloin. Dried over several weeks, this sausage is seasoned with salt, pepper, garlic and spices. This manufacturing process guarantees this Catalan Spanish charcuterie its exquisite flavor and mouth-watering aromatic notes! The Catalan fuet, resulting from a process of artisanal manufacture, is enough to feast. Cut your bread into thin slices. Line up your pieces of Catalan fuet with these and add a drizzle of extra virgin olive oil. This allows you to bring out a little more the unique taste of Catalan fuet without affecting its aromas. This taste combination is a classic of Spanish cuisine.
Catalan fuet tartare, for a menu rich in taste
The fuet tartare is a recipe that will delight gourmets who love exceptional tastes. This recipe can easily be used as an appetizer to accompany slices of bread or toast. Fuet tartare is easy to make. Here is the list of ingredients you need for four people:
a Catalan fuet sausage,
three large ripe tomatoes,
olive oil,
salt,
pepper,
a little chives,
two pickled gherkins,
four pieces of toast or fresh bread.
Start by removing the skin from the Catalan fuet and washing the tomatoes. Cut the dry sausage, chives, gherkins and split the tomatoes. Using a blender, chop everything to obtain a homogeneous mixture, while leaving a few pieces. Meat should not be turned into paste.
Pour the mixture into a container and stir in the olive oil. Season with salt and pepper to your preference. Collect toast or fresh bread cut into slices. Garnish each piece with the Catalan fuet mixture.
This recipe for tartare with fuet is an original way to enjoy this charcuterie. The combination of dry sausage with tomatoes and oil gives a tasty taste to this recipe.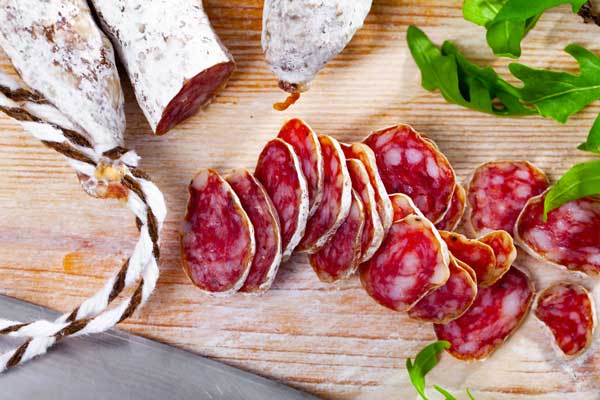 Discover the Catalan fuet salad with citrus fruits
Salad is a dish that has many combinations. Have you ever thought of pairing it with Catalan fuet? This is a very easy recipe to make and requires little time for nice flavors. For this Catalan fuet salad with citrus fruits, you need:
of a Catalan fuet,
of mash,
dried grapes,
of an orange,
spinach leaves.
Fill in with a few basil leaves, honey vinegar, extra virgin olive oil and salt to perfect the seasoning. Cut the Catalan fuet into thin slices, then make squares with each slice. Cut the orange wedges after removing the skin. Add a pinch of salt, the vinegar (one tablespoon), the olive oil (a few tablespoons) and the chopped basil in a container to perfect the seasoning. Mix with a fork to obtain a thick sauce.
Clean the spinach leaves and lamb's lettuce and arrange them in your dish. Then scatter over the squares of Catalan fuet, the orange slices and the raisins. Add the sauce all over. Your citrus fuet salad is ready. Visually, this dish is sublime. As for the taste, it's a treat!
Make Feta and Catalan Fuet Toast
One of the big advantages of this Spanish deli is the variety of possibilities it offers. After the fuet tartare, discover the toasts with feta and Catalan fuet. To prepare this delight for two people, here are the ingredients needed for this nice appetizer:
a premium quality Catalan fuet,
herb feta,
pickles,
some sandwich bread,
Laughing Cow cheese.
Lay out the Laughing Cow on the slice of bread, then cut it into 6 squares. Make slices with the gherkin and the Catalan fuet. Drain the feta pieces.
Using a toothpick, prick a piece of feta, a slice of Catalan fuet and a slice of pickle. Arrange everything on toast. Repeat the operation several times.
Your entrance to the Catalan fuet is ready! Bon appetit!
We talk about it in this article
Originally from Catalonia, the Catalan fuet is distinguished by its long and narrow shape, its characteristic white coat and its smooth texture. It ranks as one of the best Catalan products with its unique taste. Spanish dry sausage Also called "espetec" (Catalan name), the Catalan whip (or fuet) is a Spanish Catalan...
Unit price3€90