What is the best chorizo?
Spanish charcuterie
Chorizo
A spicy and smoked sausage, chorizo ​​is no longer a charcuterie to present. As an aperitif, as a pizza topping, in a salad or even as a sauce dish, this delicious food can be enjoyed in different ways. What is the best chorizo ​​for successful dishes?
What is the best chorizo?
The quality of chorizo ​​depends in particular on the meat used for its preparation and the way in which it was chopped. The best chorizo should be neither too fatty nor too salty. You can enjoy it as an aperitif or in your preparations.
In the selection of quality cold meats from Directos.eu, you will find exceptional chorizo that will suit your tastes. Thanks to its unique and well-balanced taste, you can eat it alone, as a garnish in a salad or even fry it in a pan. Do you love good spicy chorizo? Browse the charcuterie catalog of this online store, and you will not be disappointed!
What is the best variety of chorizo?
There are different varieties of chorizos which are distinguished by their flavor. The main ingredient of chorizo ​​is pork and spices. Red wine or white wine can be used in the manufacturing process of some of these sausages. Other chorizos are also seasoned with oregano or contain beef.
In the majority of cases, it is the paprika which gives this sausage its particular and attractive color. Thechili pepper content of chorizo(mild, hot, extra hot) is a classification criterion for this cold meat. These can take a U-shaped or elongated shape. There are also mini versions of chorizo ​​ideal for an aperitif.
Ultimately, the variety of chorizo ​​does not necessarily determine its quality. Depending on your preferences, you can opt for a ultra-spicy chorizo in a "U" shape or rather in an aperitif version.
The nutritional values ​​of the best chorizo
Chorizo ​​has a high iron and protein content. It is therefore an excellent source of minerals and vitamin B. It is rich in beta-carotene and lycopene which are antioxidants, effective against free radicals. The latter are in fact responsible for oxidative stress and premature aging of cells.
In general, 100 g of good chorizo provides you with the following vitamins:
vitamin B1 (43%),
vitamin E (12%),
vitamin B3 (37%),
vitamin D (4%),
vitamin B6 (25%),
vitamin B5 (16%).
Due to its rich content in sodium and saturated fats, chorizo ​​should be consumed in moderation and in combination with a healthy and balanced diet. This is why the ideal is to prioritize chorizos made with quality pork. Do you want to taste the best chorizo ​​that contains all its nutritional values? Place your order in the Directos.eu online store. The products in this store offer the best value for money and can be stored for a long time.
How is the best chorizo ​​made?
Chorizos have the manufacturing process similar to that of other sausages. To ensure good taste and quality of this dry sausage, manufacturers start by grinding the meat. During this step, the pork fat and meat are chopped with a grinder. This can be done separately or together depending on the manufacturer. Then follows the seasoning (with the spices) and the kneading of the mixture (the melee). The purpose of this action is to penetrate the seasoning into the dough.
Once the meat is well seasoned, we move on to embossing. The mixture is then buried in pork intestines. The ends are enclosed to prevent the formation of air bubbles. The shape and size of the chorizo ​​may therefore vary depending on the casing used.
The chorizo ​​is fermented then dried in the open air. The temperature of the drying location must be optimal to guarantee quality chorizo. It is during this crucial stage that the spicy red sausage develops its flavors. Depending on the recipes, chorizo ​​can also be smoked. This step is not obligatory and can be carried out before drying.
At Directos.eu, you will discover a wide range of quality cold meats. The chorizo ​​offered in this online delicatessen is made according to traditional recipes in order to preserve the delicious flavors of this atypical sausage. All their cold meats are made according to current health and hygienic standards. You therefore have the certainty of consuming a fresh product that is, above all, good for your health.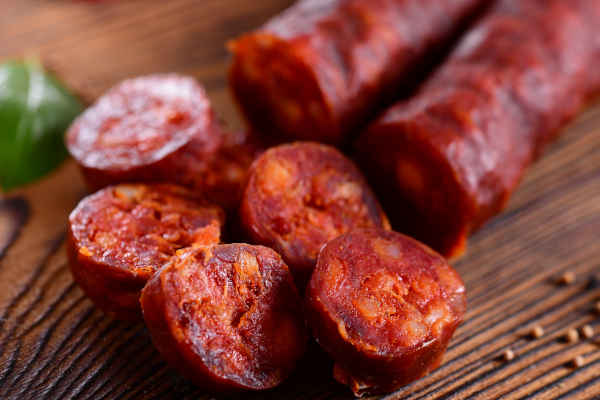 We talk about it in this article
Chorizo ​​is a sausage of Spanish origin that is very popular in Europe and particularly by the French. This specialty of Spanish charcuterie offers a multitude of flavors. Chorizo, a food with a unique taste Spanish charcuterie, chorizo ​​is made with pork or a mixture of meats. At Directos.eu, we choose the...
Unit price3€70