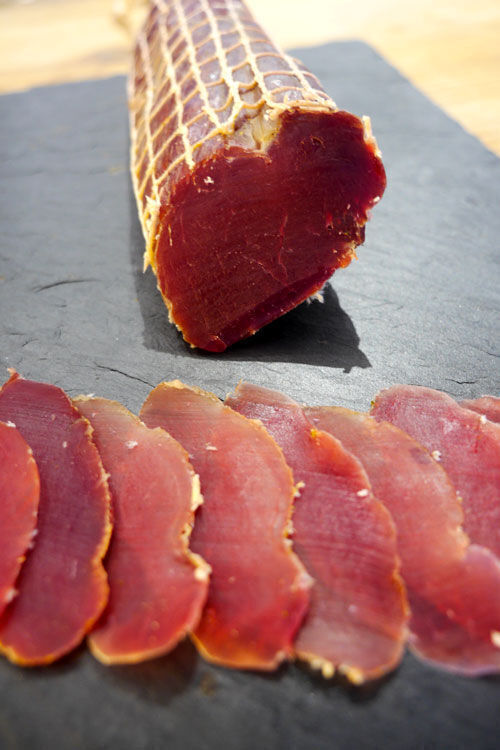 1 Saucisson surprise OFFERT
Only

30€

left to take advantage of the offer!
Un saucisson surprise offert (choix suivant stock disponible) avec le code SURPRISE
Offre valable pour une commande de plus de 30€ (hors frais de port), réservée aux particuliers et une fois par client
Dried Pork Tenderloin - Filet mignon
300 g
Price per Kg:
49€17/Kg
14€75
Unit price incl. tax
Dried pork tenderloin is a superior quality product. It's worked in one of the best parts of the traditional pink pig, air-dried to remove moisture and fat, making it lighter and tastier.
Just salted, dried, raw, without superfluity, all these flavors are preserved. With its lean flesh, it will melt in your mouth when you cut it into thin strips.
Long-term preservation (4-6 months packaged). Product vacuum packed.
What is a filet mignon?
The tenderloin is a very tender part of the pork located at the back of the animal, near the tail and near the hip. It is found in the lower part of the chest and is made up of two long, thin muscles. This cut is very tender and juicy and is considered one of the most expensive and popular cuts of pork. It is very popular and can be easily found in grocery stores and butcher shops.

Pork tenderloin has a very tender texture and a mild, savory flavor.
Dishes & recipes with filet mignon
It is very easy to prepare and can be served in many ways. It is a very versatile dish and can be prepared in many ways. You can pan-fry, grill, roast or even steam it.

Pork tenderloin is also very versatile and can be used in many recipes. You can serve it with vegetables, pasta, rice, salads, sandwiches and even casseroles. It is also very tasty when served with barbecue sauce, soy sauce, herbs or spices.
This dry charcuterie is also very often used for raclettes, to accompany your potatoes and cheese!

Pork tenderloin is an excellent source of protein. It is rich in vitamins and minerals, and it is very low in fat. It is also very easy to digest and is therefore an excellent option for those who want to eat healthy.
Preservation of dried filet mignon
Dried filet mignon, containing very little fat, will dry out quickly once opened, which is why we preferred to sell it in small portions to ensure you enjoy every last slice!
Cut it into thin slices to extract all its flavor and let it melt in your mouth, a treat! Fans swear by it!
If you want to make this dried filet mignon for your homemade charcuterie collection, you will need coarse salt and a little patience! You can find many recipes for preparing filet mignon if you want to try.... Otherwise, buy your dried filet mignon on Directos.eu and receive it directly at home!
| | |
| --- | --- |
| Brand: | |
| Drying index: | |
| Weight: | |
Composition
---

Delivery all over Europe 
at low price

Same day shipping
for all orders before 11am

Customer satisfaction
94% of our customers ask for more!
1 Saucisson surprise OFFERT
Only

30€

left to take advantage of the offer!
Un saucisson surprise offert (choix suivant stock disponible) avec le code SURPRISE
Offre valable pour une commande de plus de 30€ (hors frais de port), réservée aux particuliers et une fois par client
Pork filet mignon
14€75
Unit price incl. tax
Dried Pork Tenderloin - Filet mignon
14€75
Unit price incl. tax
Dried pork tenderloin is a superior quality product