Catalan fuet as an aperitif: ideas to impress your guests
Spanish charcuterie
Catalan fuet
Catalan fuet is a Spanish charcuterie that appeals to many people. This sausage with a unique taste allows you to enjoy convivial moments while tasting excellent quality products. You have guests and you lack idea to serve them an aperitif that will meet their expectations? Discover with Directos.eu some ideas for consuming Catalan fuet as an aperitif to impress your guests.
What is Catalan fuet?
The Catalan fuet stands out as one of the best products that come from this region of Spain. Also called "espetec", this sausage is characterized by its long and narrow shape. It has a smooth texture, covered with a white envelope caused by its fermentation.
This variety of Spanish charcuterie is made with the rack of tenderloin, one of the best parts of pork. The long drying of the fuet reinforces its intense taste while preserving its aromas. Ingredients such as salt, garlic, spices and pepper are used to season the espetec and optimize its unique flavor.
To impress your guests, choose espetec made with quality raw materials and according to local know-how. The products available on Directos.eu meet all quality criteria and are made in accordance with the principles of local craftsmanship. Catalan fuet can be enjoyed on its own or with an accompaniment. Its unique and irresistible taste will delight the taste buds of your guests. This dry sausage is excellent for sharing warm moments. It offers many possibilities for an exceptional aperitif.
Try the savory Catalan fuet cake to surprise your guests
The savory cake with Catalan fuet is an aperitif idea to try to offer your guests a gourmet dish that they have not yet had the opportunity to taste. This small fuet cake can be cooked in 30 minutes (preparation and cooking). Here is the recipe to prepare 12 small cakes:
150 g flour,
80g Catalan fuet,
50 g grated cheese,
10 cl of white wine,
2 eggs,
2 sprigs of parsley,
a tablespoon of olive oil,
2 petit-suisse,
a teaspoon of baking powder,
smoked paprika,
a little pepper.
To start, cut your espetec into slices. Respect a thickness of one centimeter and divide each circle into four to obtain small dice. Mix the flour and yeast in a bowl. Add the eggs to the mixture and the chopped parsley. Top with the drizzle of olive oil and stir everything with a whisk. Add the other ingredients: grated cheese, petit-suisses, paprika, pepper and the cut Catalan fuet.
Mix it all together. Preheat the oven to 170°C. Take a muffin pan, put it on a perforated plate and fill with the fuet mixture. Put the plate in the oven and cook for about 25 minutes. Take the preparation out, let cool and unmold. Your Catalan fuet cakes are ready!
Aperitif idea: concoct a Catalan fuet escalivade
To pleasantly surprise your guests, bet on escalivade au fuet. It is a dish that seduces with its exquisite flavors. To prepare it, you will need:
of a Catalan fuet,
fleur de sel,
2 large red onions,
3 zucchini,
an eggplant.
Also buy ground pepper, olive oil, cherry tomatoes (250 grams) and red peppers. Preheat the oven to 200°C. Prepare the eggplant and zucchini and cut them into several pieces (2 or 3). Remove the seeds from the peppers and cut them into strips. Cut each onion into 8 parts. Put the vegetables in a oven dish. Stir in the olive oil (two tablespoons), fleur de sel and pepper.
Put the dish in the oven for 45 minutes. Don't forget to stir twice during cooking and add the tomatoes ten minutes before the end of cooking. Cut your Catalan fuet into slices, add to the preparation and leave for a few minutes. You can also enjoy it with grilled vegetables.
Serve tapas with Catalan fuet
Another simple idea to adopt to please your guests is to offer natural Catalan fuet. This allows you to enjoy its exquisite flavor without adding other ingredients. Buy quality Catalan fuet and bread. Cut the sausage into thin slices. You can respect a thickness of 0.5 cm.
Place the slices of Catalan fuet on the slices of bread. To bring out the flavor of this tapas even more, add a few drizzles of extra-virgin olive oil. Some people supplement with finely chopped tomato or potato slices. To give consistency to your fuet tapas, bring good quality wine. Espetec can also be eaten with green or black olives.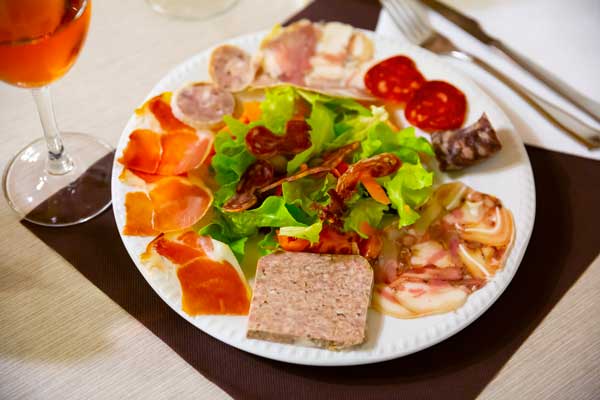 We talk about it in this article
Originally from Catalonia, the Catalan fuet is distinguished by its long and narrow shape, its characteristic white coat and its smooth texture. It ranks as one of the best Catalan products with its unique taste. Spanish dry sausage Also called "espetec" (Catalan name), the Catalan whip (or fuet) is a Spanish Catalan...
Unit price3€90