The nutritional benefits of Catalan fuet
Spanish charcuterie
Catalan fuet
Dried sausage of Spanish origin, Catalan fuet is a dish originating from Catalonia, a region of Spain. Due to its exquisite flavor, this Catalan sausage is eaten quickly and very easily. Highly appreciated by many consumers, it has nutritional benefits. Directos.eu presents the nutritional benefits of Catalan fuet.
The calorie and carbohydrate intake of Catalan fuet
This Spanish Cured Sausage is an important source of calories and carbohydrates for your body. For 100 grams of dry sausage, for example, you get 464 kilocalories. This represents 23.20% of the recommended 2000 kilocalories per day.
As for carbohydrates, you can find up to 2.41 g per 100 g depending on the variety of Catalan fuet. They are composed of 1.2 g of sugars, 1.22 g of starch and then 0.73 g of dietary fibre.
Essential to the functioning of the body, carbohydrates are also a major fuel for the cells of the body. They play a decisive role in the muscles, heart and brain.
The nutritional benefits of the lipids contained in Catalan fuet
In 100 g of natural Catalan fuet, there are 34.5 g of fat. These lipids break down as follows:
11.3 g of saturated fatty acids,
14.2 g of monounsaturated acids,
3.73 g of polyunsaturated acids,
99.4 mg of cholesterol.
Depending on the variety, Spanish fuets contain between 5 and 40% fat. When you eat blood sausage, for example, you get 20 to 30% fat. Since it comes from pork, it is important to specify that it is a good fat. The lipids present in pork also include 61% unsaturated fatty acids and only 39% saturated fatty acids.
The proteins contained in Catalan fuet and their benefits
Catalan fuet is also a great source of protein for the body. It contains in particular between 10 and 20% of animal proteins allowing you to have energy. The proteins in pork are actually amino acids, some of which are essential.
You should know that essential amino acids are not synthesized by the human body. This is the whole point for you to eat this Catalan charcuterie in order to benefit from these essential proteins.
The amino acids from this Spanish cured meat contribute to the strengthening of the immune system and the production of essential hormones. They are also real sources of nutrition for the skin, hair and nails.
Muscle growth and development as well as tissue elasticity greatly depend on it. In terms of content, 100 g of dry sausage contains up to 26 g of protein. Some Catalan fuet varieties have levels of 33 g of amino acids.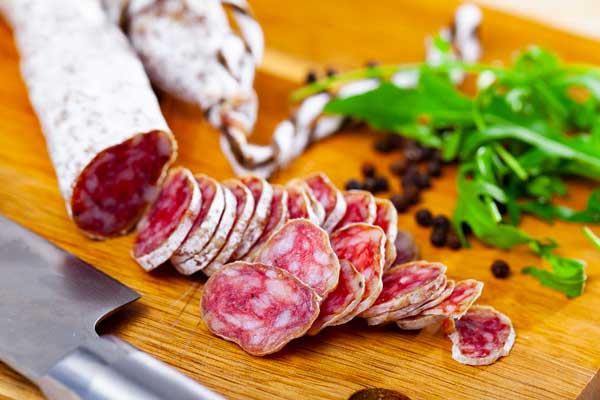 The vitamins present in Catalan fuet
Catalan fuet is a real source of vitamins for your body. Spanish cured sausages contain:
vitamin B1 or thiamin (0.63 mg),
vitamin B3 or niacin (8.55 mg),
vitamin B6 (0.43mg),
vitamin C (5mg),
vitamin D or cholecalciferol (0.5 mg),
vitamin E (tocopherol),
vitamin B9 or folic acid (1.64 mg),
vitamin B12 or cobalamin (0.67 mg).
Vitamin B1 allows your body to use the carbohydrates present in the body. Vitamin B3 contributes to energy production by cells. To these are added retinol, beta-carotene and vitamins K1 and K2.
The mineral salts present in Catalan charcuterie
In addition to proteins, carbohydrates, lipids and vitamins, dry sausage is full of mineral salts that are useful for your body. For example, we can cite the iron that is present in Catalan fuet in heme form.
This Spanish cured sausage is the most iron-rich sausage. This trace element is essential for human metabolism, as it facilitates the transport of oxygen in your body and fights against anemia. There are many mineral salts in the dry sausage, among which:
calcium (14.4 mg),
copper (0.099 mg),
iodine (7 micrograms),
magnesium (32 mg),
zinc (2.7 mg),
manganese (0.12 mg),
selenium (less than 10 mg).
Other mineral salts are present in Catalan fuet in large quantities. We find in this deli meat sodium (1900 mg), potassium (583 mg) and phosphorus (237 mg). The roles of these mineral salts contained in the Spanish dry sausage for your body are multiple.
Regulation of the constitution of cells, mineralization of bones and skeleton, maintenance of blood pressure, the advantages are numerous. Other minerals prevent heart problems and contribute to the transport of nerve impulses.
Diretos.eu is your Catalan fuet specialist. Do not hesitate to taste this tasty dish with multiple benefits for your health and well-being. However, you must be careful to maintain a balanced diet and not consume this food in excess.
We talk about it in this article
Originally from Catalonia, the Catalan fuet is distinguished by its long and narrow shape, its characteristic white coat and its smooth texture. It ranks as one of the best Catalan products with its unique taste. Spanish dry sausage Also called "espetec" (Catalan name), the Catalan whip (or fuet) is a Spanish Catalan...
Unit price3€90