How to choose your chorizo?
Spanish charcuterie
Chorizo
Chorizo ​​is a charcuterie widely used in spicy recipes, particularly in part of Mediterranean cuisine. This star of aperitifs captivates with its delicious flavor. It comes in many varieties to suit everyone's tastes. However, the rule is the same as for all other cold meats: to fully enjoy chorizo, you must choose a product of very good quality. Here are some elements to take into account when choosing what is sometimes called a "spicy sausage".
Check the color and diameter of the chorizo
Rich in flavor, chorizo ​​is distinguished from other sausages by its bright red color. This special shade is linked to its origin. It is obtained using "pimentón", a variety of paprika imported from America. It was quickly adopted by Spanish producers for coloring and seasoning sausages.
In addition to giving it its red color, pimenton adds a delicately spicy and smoky flavor to the chorizo. To know if you have a good product in front of you, make sure that the red color is particularly bright. The redder the chorizo, the better it will be.
The diameter of the chorizo is also a parameter to take into account when choosing this cold meat most often associated with Spain. If the diameter is large, the meat grind will definitely have a larger size. This element influences taste and consistency, so pay attention to it.
At Directos.eu you will find very good quality chorizo ​​which stands out for its bright red color. Made with premium meat and traditional seasoning, this dry charcuterie will surprise you with its inimitable taste.
Inspect the hose
The chorizo ​​gut can be the large or small intestine of a pig or other animal. It guarantees the breathability and solidity of the meat it contains. As with all other dry sausages, good quality chorizos are made and preserved in natural casings. Some of these dry meats can also be made with casings reconstituted from animal fibers.
However, there are chorizos which are wrapped in artificial casings made from collagen. The latter, however, are less noble. Whatever your choice, make sure that the casing of your chorizo ​​is both thick, but thin enough, permeable to resist being stuffed.
If you are a purist, opt for the prestigious chorizos which are made with natural or reconstituted casings. Usually spiced with chili pepper, they guarantee you an unparalleled taste. However, some people prefer small "twisted" chorizos that resemble sausage. You can also direct your choice towards large chorizos which have a wide diameter. Very appreciated by the Spanish, they have a relatively fine taste.
Which meat is best for chorizo?
Originally, the main meat for making chorizo ​​is pork. This charcuterie can also be made from other varieties of meat. You can therefore find beef, duck, bull or even donkey chorizo ​​on the market. Others are made with a mixture of pork and beef or another type of meat. The possibilities are numerous and manufacturers continue to demonstrate ingenuity.
In addition, a good chorizo ​​must contain meat, fat and chorizo ​​spices. So check that all these ingredients are part of the composition of the chosen food. No matter what variety you like, make sure it is made with good quality meats like the products sold on Directos.eu.
All the dry meats offered by this online store are available for professionals, amateurs and individuals who love this spicy red sausage. You can therefore buy cold meats at the best price online and have them delivered to your home. The chorizo ​​offered in this charcuterie shop is wrapped in natural pork casing. After your purchase, delivery is made as quickly as possible and in a protected manner to preserve the nutritional qualities of your cold cuts.
Mild, strong and extra-strong chorizo: which one to choose?
Don't know which flavor of chorizo ​​to choose? In reality, it's all a question of taste. Chorizo ​​is naturally slightly spicy. If you can't stand chili or you have very young children at the table, opt for mild chorizo. On the contrary, if you love to taste the exceptional taste of chili in your sausage, choose hot chorizo. Extra strength is suitable for people who tolerate a high level of spiciness.
Raw, in a dish or as a garnish, its exceptional taste is sure to awaken your taste buds.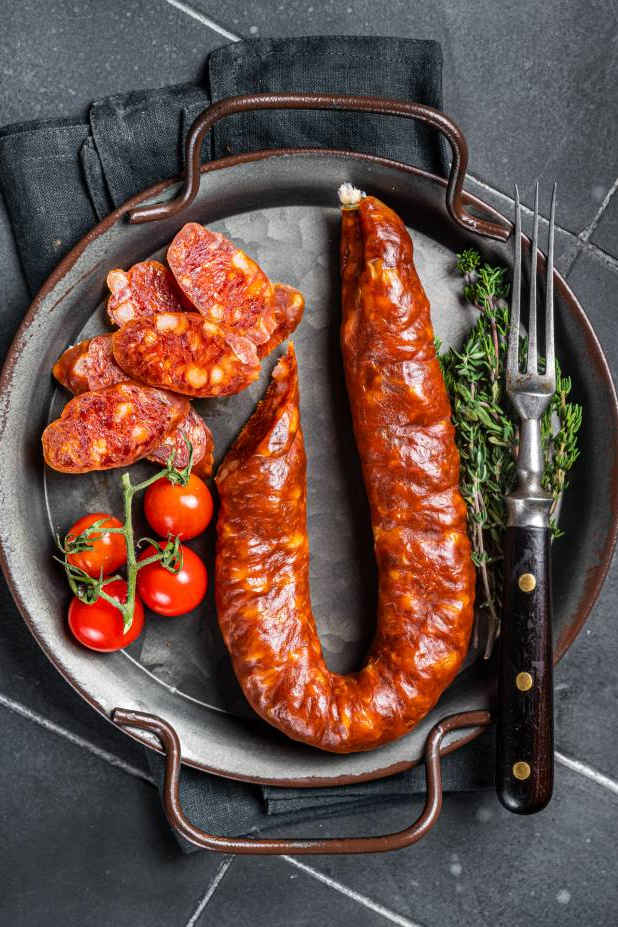 We talk about it in this article
Chorizo ​​is a sausage of Spanish origin that is very popular in Europe and particularly by the French. This specialty of Spanish charcuterie offers a multitude of flavors. Chorizo, a food with a unique taste Spanish charcuterie, chorizo ​​is made with pork or a mixture of meats. At Directos.eu, we choose the...
Unit price3€70