What are deli meats without pork?
Charcuterie
100% pork free
Charcuterie is often associated with pork. There are also recipes with beef, poultry and even fish. They are very tasty. Discover here some pork-free cold cuts available at Directos.eu.
Poultry charcuterie
It ranks second after pork charcuterie, which is an ancestral recipe. There are many recipes with unique and exquisite tastes.
Poultry and duck whip with mushrooms
This pork-free charcuterie has duck meat and mushrooms as its main ingredients. Duck is a meat rich in monounsaturated fatty acids. It is also renowned for its refined flavors and taste. Its combination with the mushroom gives rise to a very appetizing charcuterie. Like pork deli meats, poultry and duck whip with mushrooms can be eaten raw or afterwards cooking. It can also be accompanied by different dishes according to your appreciation.
Lean poultry sausages
Made from poultry meat and duck meat, the lean poultry sausages will delight consumers who want to awaken their taste buds to new flavors. 100% pork-free, the lean poultry sausage is also ideal for people who want to pay attention to their figure, but without completely depriving themselves of good things. Made from natural beef casing, lean poultry sausage can be kept for 6 months.
Its unique taste and firmness will delight all lovers of artisanal charcuterie.
Duck whips with orange or figs
The sweet and salty mix is very popular. In addition to plain duck meat, a delicate perfume of storm for one and of figs for the other, is added to the recipe of this fuet. These sweet notes go perfectly with the lean meat of the duck. These cold cuts are ideal to accompany cereal bread, for example. Fuet poultry & duck with orange or Fuet poultry & duck with figs
The beef nut
The beef nut takes the form of a large rosette-type sausage. The beef nut made exclusively from beef, even for the casing, is widely appreciated to accompany raclettes or any other cheese-based dish.
With its firm flesh and very pleasant smoky taste, beef loin will delight all appetites.
Duck breast
The famous duck breast is a staple of French gastronomy. Refined, the duck breast is eaten cut into thin slices to appreciate the quality of the meat. Coming exclusively from French and Portuguese producers, the ducks are force-fed according to traditional methods. This gives the duck breasts an unparalleled tenderness and quality. They are then dried at an ideal temperature, giving character to the meat.
Ideal for snacking as an aperitif, dried duck breasts can also ideally accompany a mixed salad as we eat in the south-west of France (with pieces of foie gras).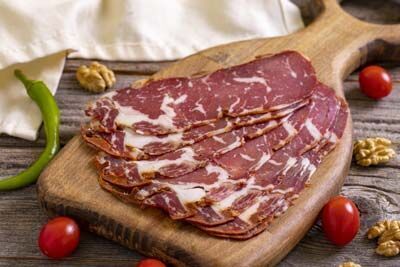 Why eat charcuterie without pork?
Although pork charcuterie is still just as delicious, mutton and poultry now occupy a large place in gastronomy. They are very popular with many followers who continue to grow. This effervescence around the nut of beef or any other variation of charcuterie without pork is motivated by several reasons that you discover here.
Charcuterie without pork is accessible to everyone
Pork is the main ingredient in traditional charcuterie. If it is appreciated by many people, its consumption is prohibited to others for reasons of religion, health and sometimes preference. Pork-free deli meats, on the other hand, are made with meats that everyone can tolerate. Whether it is duck, chicken, mutton, or beef, there is less controversy than in the case of pork. These meats are better tolerated and it is possible to find them in all delicatessen departments.
Exquisite and diversified tastes
The meats in pork-free deli meats recipes are carefully chosen for the quality of their tastes. Being made with different meats, these deli meats can easily be served with different dishes, while providing a diversity of flavors. A dried duck breast will be perfect on a slice of bread with mashed avocado. Small slices of poultry and duck fuet will satisfy a little hunger in the morning, while beautiful slices of beef nuts will bring an unparalleled taste to an endive salad.
More or less smoky notes and authentic flavors will amaze the palates of the most rigorous gourmets!
How to choose charcuterie without pork?
To choose a quality pork-free deli meat, it is essential to consider the amount of fat listed on the product packaging. If the fats provide softness, there must be a fair balance in the composition of the charcuterie product. The texture must be both firm and melting, it depends on the quality of the product, its behavior when cut and its flavors in the mouth.
Next, it is important to check the product label to see if the sausage has been made exclusively from beef casing and not pork. This verification is very important to ensure the quality of your charcuterie product. Beef casing is a preservative whose natural porosity contributes to the best conditioning of the food. Synthetic preservatives are in fact strongly discouraged to reduce cardiovascular risks in particular.
These two elements are essential when choosing a quality pork-free deli meat.
At Directos.eu you are guaranteed that the meat products in the "pork-free" range are of excellent quality. The flavors are preserved, and the unique taste of charcuterie without pork brings a certain originality to your preparations. You will delight family and friends by offering our pork-free cold cuts during your family meals or aperitifs with colleagues!
We talk about it in this article