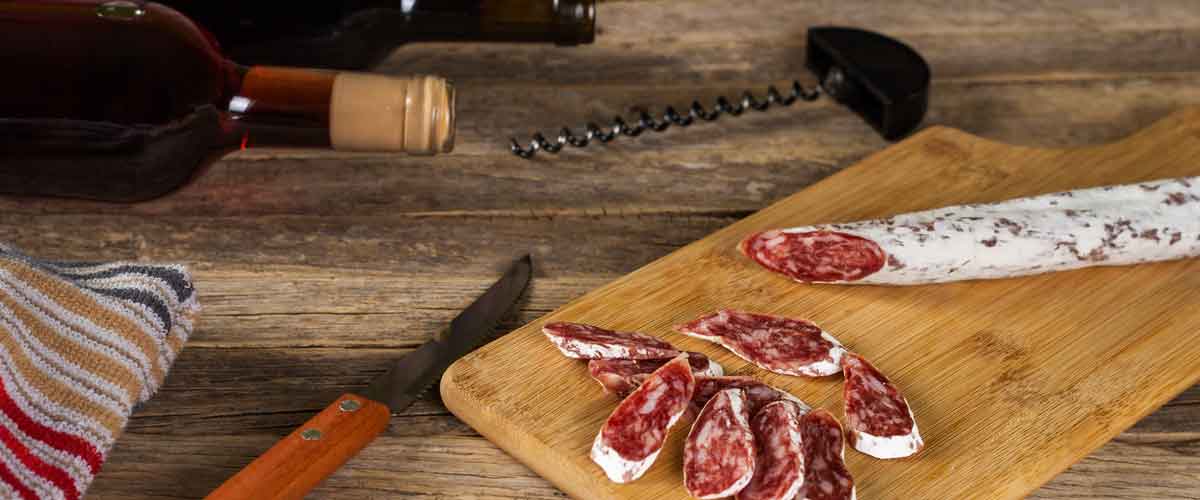 Wine, cheese and charcuterie go well together, they say. Choosing the ideal wine to accompany charcuterie remains difficult for most consumers. Directos.eu presents here the best wines to accompany your dry sausage and the criteria for choosing them. Red wine and Spanish charcuterie Red wine does not necessarily go well with charcuterie. Fat has a rather negative effect on the tannins of red wine. The latter indeed become hard and dry, giving an unpleasant sensation in the mouth. You will have the impression of consuming a metallic object. However, for raw sausages like Catalan Fuet, well-acidified red wine is a great accompaniment....
🚚

Shipping
FREE
in United-Kingdom 
Valid for delivery to a pick-up point, orders over €40
Offer reserved for individuals, valid for all your orders

A popular dish of Spanish origin, Catalan fuet can be prepared in several ways. Over the years, recipes based on or made with this Spanish dry sausage have multiplied. Directos.eu shows you here different ways to cook Catalan fuet. Fuet Salad Catalan fuet is a perfect ingredient for making a salad. This is a recipe made with lettuce shoots, arugula and lamb's lettuce. You then add the tasty espectec in the form of tacos and cherry tomatoes. Since the salad accepts almost any ingredient, some people also add spring onions. Croquettes stuffed with fuet Croquettes are a dish that actually accepts any kind...
Fuet Catalan is a dry Spanish sausage very popular for its unique taste and firm texture . What makes this charcuterie so special compared to the others? Directos.eu makes you discover the peculiarities of Catalan fuet and its differences with other sausages. What are the particularities of Catalan fuet? Also called Espetec, Catalan fuet is a dry sausage from Catalonia. It has many peculiarities that make it famous. Ingredients Catalan fuet is made from top quality pork. Added to this are ingredients such as garlic, black pepper and Espelette pepper. Unlike other sausages, it does not contain paprika, which is a common ingredient in...

Catalan fuet is a traditional charcuterie from the region of Catalonia, Spain . Made from pork, salt and spices, there are several varieties of Catalan fuet. Each of them has its own ingredients and taste characteristics. Directos.eu presents you with different varieties of Catalan fuet, some as tasty as the others. Catalan fuet Espetec Catalan fuet "Espetec" is a variety of dry sausage that is very popular in Spain. It is distinguished by its elongated and thin shape, which makes it a practical sausage to take away and snack on. The manufacturing process of the Espetec is similar to that of...
Catalan fuet is a traditional charcuterie from Catalonia, a region located in the northeast of Spain. It is now very well known for its spicy flavors and its texture. What are the origins of Catalan fuet and where can you buy this delicious charcuterie? Directos.eu tells you all about this traditional Spanish dish. The origins of Catalan fuet The history of Catalan fuet dates back to ancient Rome, when the Roman legions introduced the culture of cured meats to Catalonia. The Romans were known for their love of meat and their expertise in charcuterie. They transmitted their know-how to the inhabitants of Catalonia,...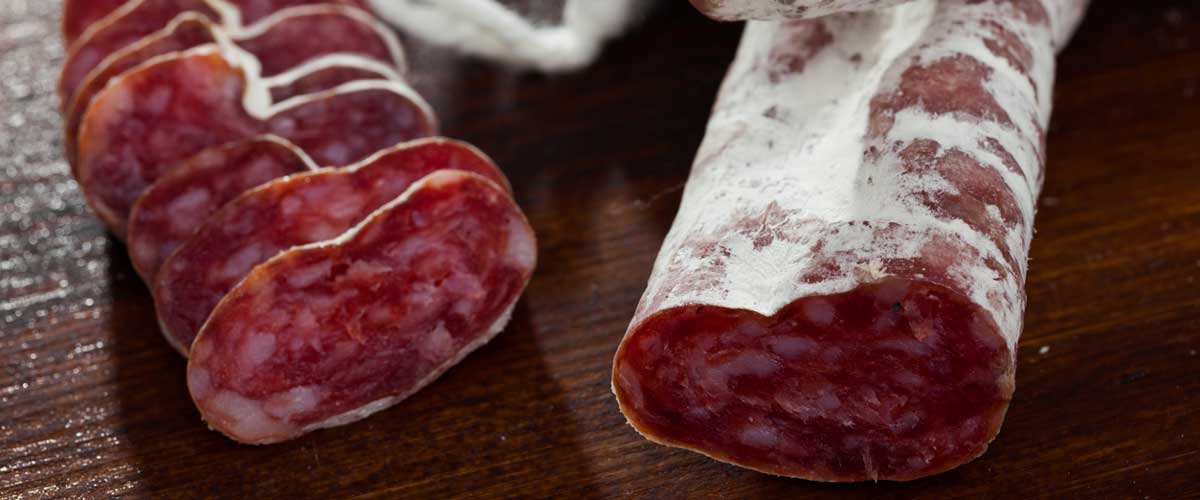 Highly appreciated for its unique flavors, Catalan fuet nevertheless requires careful attention as to its conservation. Find out with Directos.eu how and how long to store a Catalan fuet. How to store a Catalan fuet? In general, it is advisable to store the Catalan fuet in a ventilated, cool and dark place. The ideal storage temperature should be between 12 and 18°C. You must protect your dry sausage from sunlight. The first means of preserving Catalan fuet is the sausage box. However, make sure that the container is not completely closed. Thus, a wooden sausage box with holes is recommended. You can also...

Dried sausage of Spanish origin, Catalan fuet is a dish originating from Catalonia, a region of Spain. Due to its exquisite flavor, this Catalan sausage is eaten quickly and very easily. Highly appreciated by many consumers, it has nutritional benefits. Directos.eu presents the nutritional benefits of Catalan fuet. The calorie and carbohydrate intake of Catalan fuet This Spanish Cured Sausage is an important source of calories and carbohydrates for your body. For 100 grams of dry sausage, for example, you get 464 kilocalories. This represents 23.20% of the recommended 2000 kilocalories per day. As for carbohydrates, you can find up to 2.41...

Catalan Fuet is a traditional charcuterie from Catalonia, Spain. Made from pork meat and carefully selected spices, it offers unique flavors. This sausage is often served as an aperitif or as a starter in Spanish gastronomy. Directos.eu shows you the steps to cook Catalan fuet at home, this dish very popular with charcuterie lovers. What are the ingredients needed to cook Catalan fuet? A traditional charcuterie from Catalonia, Catalan fuet is appreciated for its savory taste and unique aroma. The basic ingredients you will need to make Catalan fuet are: pork, bacon, salt, ground black pepper paprika, ground garlic. You have to be careful about the quality of the...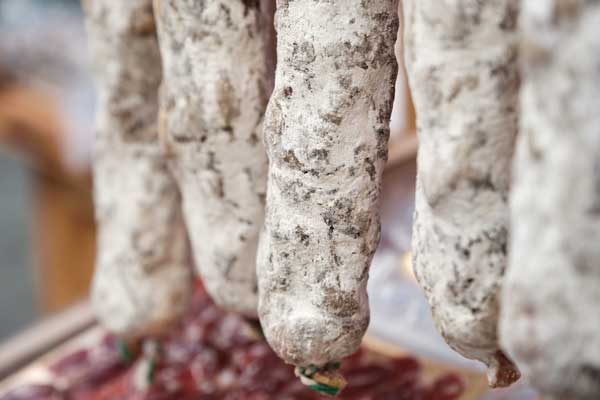 Widely appreciated around the world, the dry sausage adds extra flavor to many recipes. It is made from pork, salt, pepper and other ingredients that enhance its taste. Its skin is strewn with a white matter, similar to flour. This is the natural flower whose importance few people know. Find out here what this layer on the surface of the sausage is for. What is dried sausage flower? This white matter is a collection of micro-organisms, particularly molds and a little yeast that appear during the curing process of the sausage. The thin layer develops on the sausages with a...
Catalan fuet is a Spanish charcuterie that appeals to many people. This sausage with a unique taste allows you to enjoy convivial moments while tasting excellent quality products. You have guests and you lack idea to serve them an aperitif that will meet their expectations? Discover with Directos.eu some ideas for consuming Catalan fuet as an aperitif to impress your guests. What is Catalan fuet? The Catalan fuet stands out as one of the best products that come from this region of Spain. Also called "espetec", this sausage is characterized by its long and narrow shape. It has a smooth texture, covered...
🚚

Shipping
FREE
in United-Kingdom 
Valid for delivery to a pick-up point, orders over €40
Offer reserved for individuals, valid for all your orders